Guide to Fair Trade Labels
In the U.S. there are 5 widely recognized labels (see below): Fair Trade International, Fair Trade U.S.A., Fair for Life, the World Fair Trade Organization and the Fair Trade Federation. The first three are certifiers and the last two are membership groups. There are differences between each, and that's what we aim to tackle here.
What do all the different fair trade logos mean?
The fair trade landscape has grown rapidly over the past few years and with that, the number of products available has also grown. As you may have experienced, navigating the various fair trade labels, logos and membership groups associated with the ever-increasing availability of fair trade products can be a bit difficult.
A few questions come to mind:
Do all the logos, labels & certifications mean the same thing?
Why can products like coffee or bananas be "certified," but not things like a bracelet or journals?
Why do some labels say "Fair Trade Certified Ingredients" or "Fair Trade Certified Factory" and some just say "Fair Trade Certified"?
Is "Fair Trade Certified" the same thing as "Fair Trade" and vice versa?
Fair Trade Certified Labels
The point of all the fair trade labels and logos is to help the consumer decide which products to buy, yet there is a fair amount of confusion, sometimes brought on by the very language the certifiers use. This is unfortunate, as the point of fair trade is to offer products that consumers can trust, knowing they were made as fairly as possible. This confusion is also a little exciting, though. The fact that more than one fair trade label exists is the result of the fair trade movement's growth over the past decades. There is a wider variety of fair trade products available today than ever before!
One basic confusion we can settle regards the difference in the phrases, "this product is fair trade" and "this product is fair trade certified." The former can refer to lots and lots of products, in fact the majority of the products we carry are like this. Fair trade certification, at this time, refers to commodities that are grown, and therefore can be monitored at a farm level. There are also fair trade factories, where all the products made there are certified on the factory level, but there are only a couple.
Things like coffee, chocolate, fruits, rice, flowers, and also cotton can be Fair Trade Certified, by one of the certifiers below. A tee-shirt, made from cotton can be certified, but a bracelet or a journal, however, cannot be at this time. This doesn't mean a journal can't be fairly traded. It just means there is no system in place to monitor the entire supply chain. There are simply too many variables for all the materials used in the wide variety of handcrafted products and this is where the fair trade membership groups come in. For food, it is simpler – the "materials" for coffee are coffee beans!
You might be asking how we're all supposed to remedy this confusing situation, and you wouldn't be alone. While we can't say what the near future will hold for fair trade certifications, we have put together a few tips on understanding just what each fair trade logo means. Let's dive right in!
Aspects of Fair Trade Certifying
Identify Type of Producer
Determine Minimum Price & Fair Trade Premium

Ensure Labor Laws are Followed
Set Cost of Inspection, Certification, & Licensing
Inspect Supply Chain
Ensure End Products are Properly Labeled
Fairtrade International is probably the most well known fair trade label worldwide. The have a network of Fairtrade organizations in 24 countries, including Fairtrade America.
Their mission:
to connect disadvantaged producers and consumers, promote fairer trading conditions and empower producers to combat poverty, strengthen their position and take more control over their lives.
Fairtrade International believes that there can be sustainable development that benefits the world's poorest if trade is equitable and has transparency.
Certification Body: FLOCERT
The Fairtrade Mark, as seen on products above, signifies that a fair cost has been paid to small farmers and also a Fairtrade premium above the fair price, which goes towards the social, environmental or economic development of the local community. Groups selling Fairtrade products are regularly audited by Fairtrade International's third-party inspector, FLOCERT.
Products Available:
The number of Fairtrade International products has increased tremendously over the past decade or so. According to their website, over 27,000 products carry the Fairtrade mark, sold in 120 countries. In 2012-2013 sales of Fairtrade certified products grew 15%, although they fell a bit in 2014 (according to this article in The Guardian), which was the first time they fell in 20 years.
Fairtrade certified products are mostly food items like coffee, tea, chocolate, bananas, rice, etc. The most well known Fairtrade certified product in the U.S. is probably Ben & Jerry's Ice Cream.  They also certify sports balls.
According to their FAQs, "There are now 1,210 Fairtrade certified producer organizations in 74 producing countries, representing over 1.4 million farmers and workers. In addition to other benefits, approximately €86 million was distributed to communities in 2013 for use in community development. Including families and dependents, Fairtrade International estimates that six million people directly benefit from Fairtrade."
Fair Trade USA is a non-profit organization that has granted fair trade status to over 800 manufacturers and distributers.
Their mission:
to enable sustainable development and community empowerment by cultivating a more equitable global trade model that benefits farmers, workers, consumers, industry and the earth.
Fair Trade USA envisions a world where conscious consumers can achieve a "Fair Trade Lifestyle" and be able to shop ethically in all product categories. They see fair trade not just as a market, but as a social movement that offers real choice to consumers and real change to farmers and workers.
Instead of working with an existing certification body Fair Trade USA developed their own standards and compliance criteria, which you can access in their Standards Download Center. It is quite extensive, and separated into categories such as Independent Shareholders, Farmworkers, Trade, Apparel and Home Goods, and Capture Fisheries. When a group is ready to acquire a license to use the Fair Trade Certified label, SCS, the third-party independent certifier, issues the license.
"According to a GlobeScan Study, 73% of consumers that are aware and familiar with the Fair Trade Certified label also trust it."
Products Available:
Fair Trade USA products include Apparel and Home Goods, Grains like Quinoa, Body Care, Cocoa, Coffee, Flowers, Fruits & Vegetables, Herbs & Spices, Honey, Nuts, Seafood, Spirits, Sports Balls, Sugar, Tea, and Wine
Pro Tip: There are many versions of the Fair Trade Certified logo. Make sure to note which one is on the package so you know exactly what part of the product is fair trade! In some instances, like with tea, it will even have the percentage of the product that is fair trade.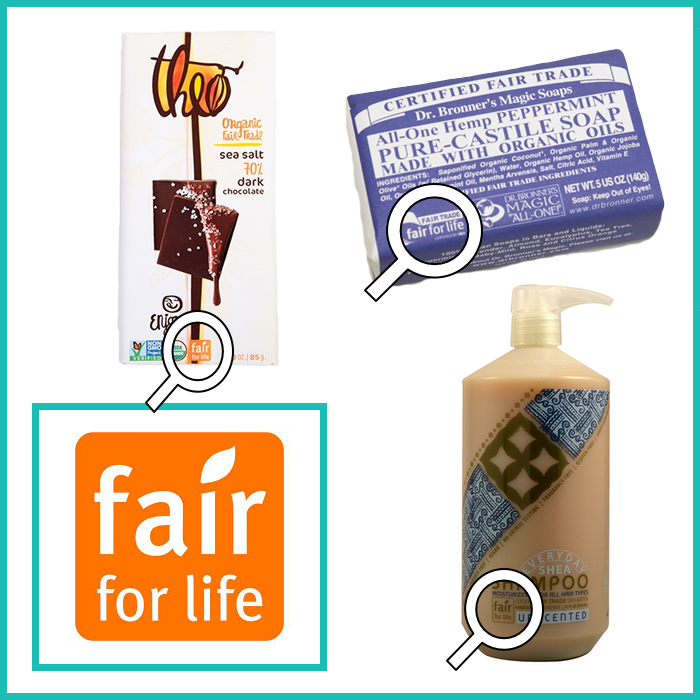 Their Mission:
to ensure fair and positive relations between producers and their cooperatives or contracting companies, between workers and their employer, between sellers and buyers on the world market while at the same time ensuring performance of standards.
Fair for Life's certification system is based on a non product-specified standard. Most food and non-food commodities alike, including raw materials to the finished product can be certified. This is perhaps where Fair for Life differs the most from other certifications. Every step of production can be certified, including producers, manufacturers and traders, whereas other certifiers simply certify the finished product or only a couple steps of the production.
Another distinguishing aspect of Fair for Life is that they also certify entire companies. No other certifier does this. So far there are only a handful, but it shows an impressive dedication to prioritizing transparency in business at all levels. You can find out more under "Company Certification" on their website.
The IMO is an independent, third-party certifier specializing in international inspection and certification services for organic, ecological and social standards.
Products Available:
There are more than 500 certified Fair for Life products including mangoes, almonds, aloe vera, apples, asparagus, avocados, tea, rice, soaps and shampoos, chocolate, spices, coconut oil, grapes, honey, pears, shea butter, wine and more.
Fair Trade Food Pyramid
Below is a graphic of the most common fair trade food items. You can find these products and more in your local grocery!
Fair Trade Membership Groups
Membership organizations like the World Fair Trade Organization and the Fair Trade Federation are an important part of the fair trade movement. They host events, conferences, campaigns and advocate for fair trade. Organizations from all parts of the fair trade supply chain, can apply to become members. In return for membership dues, each organization gains credibility, showing that they follow the fair trade principles in all they do. Fair Trade Winds + Momentum are members of the Fair Trade Federation as retail stores. We are proud of our membership and of being part of a distinct group of like-minded businesses all fully committed to fair trade.
The WFTO is a global association that has formally acknowledged up to 324 producer cooperatives, marketing companies, importers, retailers, and regional and national support organizations as fair trade. In operation since 1989, WFTO recognizes its member organizations and retailers by determining their adherence to the 10 Principles of Fair Trade throughout their day-to-day processes.
Their Mission:
to enable producers to improve their livelihoods and communities through Fair Trade.  WFTO is the global network and advocate for Fair Trade, ensuring producer voices are heard. The interest of producers, especially small farmers and artisans, is the main focus in all the policies, governance, structures and decision making within the WFTO.
The FTF is a force in the global fair trade movement's efforts to alleviate poverty and promote sustainable and equitable trading partnerships. In particular, Fair Trade Federation's impact is felt throughout North America due to its efforts to promote organizations that are devoted to the 9 fair trade principles. The FTF's principles were developed from the 10 principles of the WFTO (two principles were combined).
Their Mission:
to create a just and sustainable global economic system in which purchasing and production choices are made with concern for the well-being of people and the environment, creating a world where all people have viable economic options to meet their own needs. We seek to alleviate poverty by continually and significantly expanding the practice of trade that values the labor and dignity of all people.
As proud members of the Fair Trade Federation, Fair Trade Winds + Momentum only carry products that are either fair trade certified, or come from producer groups who are also members of the FTF or WFTO.