Blue Floral Rectangle Serving Tray
Blue Floral Rectangle Serving Tray
In stock
Hand painted with intricate floral designs, this serving tray is a shining example of the expertise and craftsmanship of Palestinian artisans.
High gloss glaze. Microwave safe. Not oven safe.
Size: 8.25″ x 4.25″ x 1.25″
Frequently Bought Together
Chef Accessories, Dishware & Glassware, Gifts for Entertaining, Holiday Favorites, Jamestown-Top-Products, Palestinian Ceramics, Wedding Gift Ideas

Enjoy the taste and culture of the Middle East with this NEW gift bundle—the perfect gift for the consummate entertainer or adventurous foodie. Enjoy soulful Palestinian recipes from the

Falastin

cookbook, using cold-pressed

olive oil

from Israel, and

Za'atar

, the classic Middle Eastern spice. Serve it all in colorful

dipping bowls

hand-painted with flowers and leaves in the tradition of Palestinian ceramics.

Dipping bowl details:

Glazed and fired with a glossy finish, handmade in a fair trade workshop in the West Bank. Each bowl holds 4 oz. Size: 1 1/2"h x 3 1/2"dia. Microwave safe, not oven safe. Hand wash recommended.

Za'atar ingredients: 

dried za'atar leaves, sesame seeds, sumac, olive oil, sea salt. 2.8 oz.

Olive oil:

8.5 fl oz

$

89.99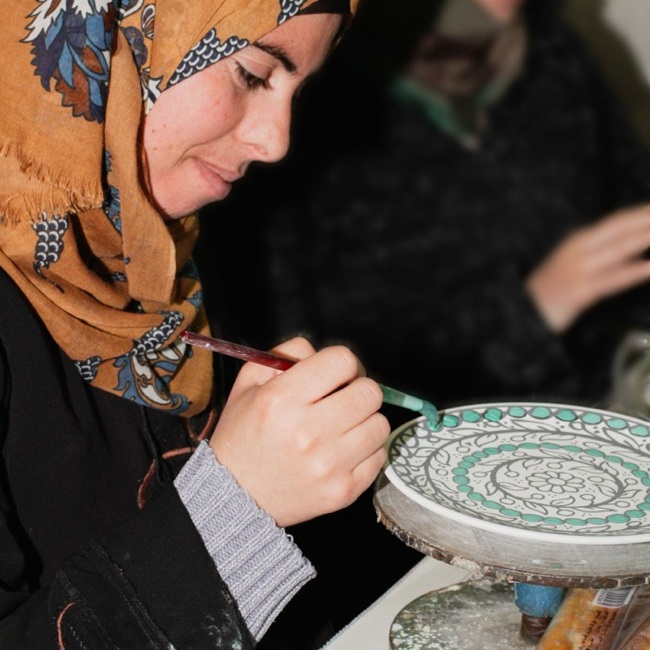 Palestinian artisans in the West Bank specialize in ceramics and painting. Each piece is delicately and expertly painted by hand in traditional patterns. By providing a long-term trading partnership and interest-free advance payment for orders, the artisans gain much-needed stability and are able to connect with other local groups to solve logistics that arise in the area due to the division in the area.
Over the past few years, West Bank area artisans have faced more challenges: fewer tourists to buy their products, a lack of employment opportunities, and limited resources. Increased international competition has also exploited artisans and made it harder for them to receive fair prices.

Great Gift!
I gave this as a thank you present to an advisor that helped me as I earned my Masters degree. She loved it and the item matched up with her caregiving spirit. A perfect gift for anyone!
Blue Floral Rectangle Serving Tray