Wildflower Felt Flower Bouquet
Wildflower Felt Flower Bouquet
In stock
---

"Everlasting bouquets that never wilt & bring years of joy to come!" – Jonathan
Includes: a yellow bell flower, a peach geranium, a soft green eucalyptus, a peach snapdragon, a blue billy buttons, a lemon peony, & a dusty pink alpinia
Bendable wire stems
Fits in any vase, big or small
Each flower is dyed, cut, and stitched by women artisans in Nepal.
Display in your bathroom, bedroom, kitchen, or any room you want to liven up!
Send for special occasions like Mother's Day, birthdays, or as sympathy gifts to remember loved ones forever.
Gifting? All bouquets come with tissue paper and twine. Wrap it up and make it an extra special gift that looks like it came straight from the flower shop! You can even add a gift message at checkout.
Material: Felted Wool; Azo-free dyes, eco-friendly and non-toxic
Size: About 18″ tall
---
Frequently Bought Together
Bouquets, Felt Collection, Global Goods Partners

---

Everlasting bouquets that never wilt & bring years of joy to come! -Jonathan

Includes: 

deep orange daisy, orange daisy, light blue daisy, purple daisy, forsythia, purple crepe myrtle, felt ash leaf lime green

Bendable wire stems
Fits in any vase, big or small
Each flower is dyed, cut, and stitched by women artisans in Nepal.
Display in your bathroom, bedroom, kitchen, or any room you want to liven up!
Send for special occasions like Mother's Day, birthdays, or as sympathy gifts to remember loved ones forever.

Gifting?

All bouquets come with tissue paper and twine. Wrap it up and make it an extra special gift that looks like it came straight from the flower shop! You can even add a gift message at checkout.

Material: 

Felted Wool;

Azo-free dyes, eco-friendly and non-toxic

Size:

About 18" tall

---

Shipping Details >

&

Return Policy >

$

133.00
Wildflower Bouquet Includes:
Yellow Bellflower
Peach Geranium
Soft Green Eucalyptus
Peach Snapdragon
Blue Billy Buttons
Lemon Peony
Dusty Pink Alpinia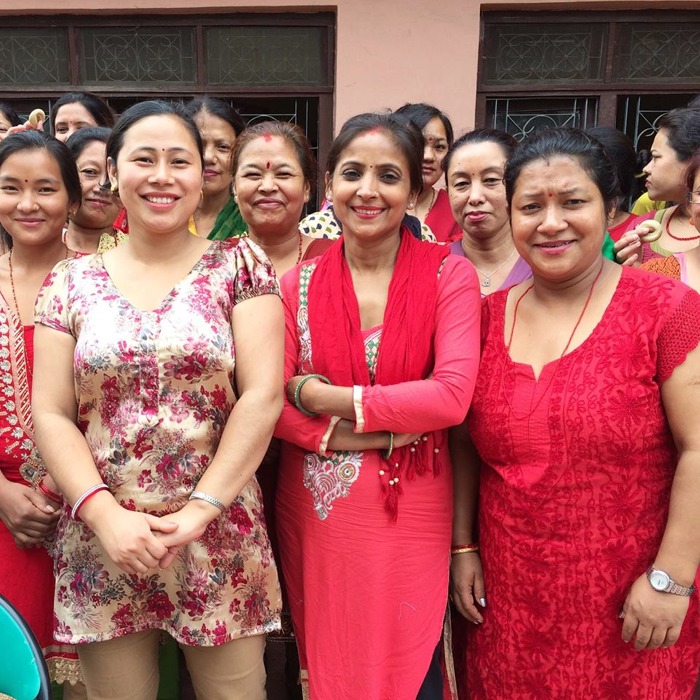 Artisan Voices
"I believe women and girls should be given the opportunity to do something – to better themselves. Before, men were more independent and girls were bound to the rules of their family. Now, women are able to make their families understand that they can do the same work as men."
— Savitri Kardel