.
.
About the Collection
Artisans in the West Bank specialize in ceramics and painting. Each piece is delicately and expertly painted by hand in traditional patterns. By providing a long-term trading partnership and interest-free advance payment for orders, the artisans gain much-needed stability and are able to connect with other local groups to solve logistics that arise in the area due to long-standing divisions.
Fair trade is an opportunity not only for artisans to access markets around the world, but also to work for peace in their communities. At Bethlehem Fair Trade, Palestinian Arabs and Israeli Jewish artisans work side by side to sustain their shared cultural traditions of craft.
Over the past few years, West Bank area artisans have faced more challenges: fewer tourists to buy their products, a lack of employment opportunities, and limited resources. Increased international competition has also exploited artisans and made it harder for them to receive fair prices outside of the fair trade workshop. Recent tensions have made things even more precarious, but they further their resolve to work to ensure a world of peace and justice for all.
Chef Accessories, Dishware & Glassware, Gifts for Entertaining, Holiday Favorites, Palestinian Ceramics, Ready for Fall, Serrv, Wedding Gift Ideas

Colorful spoon rest is intricately handpainted with bold blue, burgundy, and yellow floral patterns, a traditional Palestinian craft. Purchases provide artisans with fair trade employment, training, and opportunities to market their products worldwide. Pieces have high-gloss glaze. Slight variations may occur due to handmade techniques. Includes a hanging hole in the handle. Microwave safe. Hand wash. Size: 1 1/4"h x 3 1/2"w x 10 1/2"l

$

38.00
Turquoise Flower and Daisies Pattern
---

Floral Dipping Bowls
---
Entertain in style with these colorful dipping bowls hand-painted in the tradition of Palestinian ceramics. Just fill them with some well-crafted olive oil and fresh herbs, or nuts and dried fruits, and let their bold, cheerful colors do the rest!
Be Inspired & Get Cookin'

---
Chef Accessories, Gifts Under $30, Grocery, Israel, Serrv

Organically grown, cold-pressed extra virgin olive oil from Israel. Winner of the Extra Gold medal at the Premio Biol competition in Italy, making it one of the best organic extra virgin olive oils in the world! Small: 8.5 fl. oz. (250 mL) Large: 25 fl. oz. (750 mL)

$

10.50 –

$

24.99

Books & CDs, Chef Accessories

In Plenty More, Yotam Ottolenghi explores the diverse realm of vegetarian food with a wholly original approach. Organized by cooking method, with more than 150 dazzling recipes emphasizing spices, seasonality, and bold flavors, this visually stunning collection will change the way you cook and eat vegetables.

$

35.00

Books & CDs, Chef Accessories

In Ottolenghi Simple, powerhouse author and chef Yotam Ottolenghi presents 130 streamlined recipes packed with his signature Middle Eastern–inspired flavors, all simple in at least (and often more than) one way: made in 30 minutes or less, with 10 or fewer ingredients, in a single pot, using pantry staples, or prepared ahead of time for brilliantly, deliciously simple meals.  With more than 130 photographs, this is elemental Ottolenghi for everyone.

$

35.00

Books & CDs, Chef Accessories

In Jerusalem, Yotam Ottolenghi and Sami Tamimi explore the vibrant cuisine of their home city—with its diverse Muslim, Jewish, and Christian communities.  This stunning cookbook offers 120 recipes from their unique cross-cultural perspective, from inventive vegetable dishes to sweet, rich desserts.

$

35.00

Grocery, Serrv

This traditional spice mixture with sea salt can be used as a bread dip with olive oil, or on meats, vegetables, or hummus. Founded and managed by women, Sindyanna works in partnership with Israelis and Palestinians.

Ingredients: dried za'atar leaves, sesame seeds, sumac, olive oil, sea salt

2.8 oz.

$

10.00
Floral Appetizer Plates
---
Great for sorting different kinds of nuts, dried fruit, olives or sweets, this set of four appetizer plates come in primary colors with hand-painted flowers and leaves.
Dishware & Glassware, Palestinian Ceramics, Serrv

Colorful tabletop ceramics are intricately hand painted with bold floral patterns, a traditional Palestinian craft. High gloss glaze. Slight variations may occur due to handmade techniques. Food and microwave safe. Hand wash. Size: 2 3/4"h x 8 1/2"dia

$

42.00

Dishware & Glassware, Gifts for Entertaining, Palestinian Ceramics, Ready for Fall, Serrv, Wedding Gift Ideas

Two dips are twice as nice! Colorful tabletop ceramic dish is intricately hand painted in bold floral designs, a traditional Palestinian craft. Purchases provide artisans in Bethlehem and Hebron with fair trade employment, training, and opportunities to market their products worldwide. High gloss glaze. Slight variations may occur due to the handmade techniques. Microwave safe. Hand wash. Size: 1 1/2"h x 8"l x 5 1/2"w.

$

33.00
Chef Accessories, Dishware & Glassware, Palestinian Ceramics, Serrv, Wedding Gift Ideas

This beautiful ceramic spoon rest, intricately hand-painted with a floral motif, celebrates traditional Palestinian craft. Purchases provide artisans in Bethlehem and Hebron with fair trade employment. High gloss glaze. Slight color and paint variations may occur due to handmade technique. Microwave safe. Hand wash. Size: 1.25"h x 9 .75"l x 4"w

$

35.00

Dishware & Glassware, Palestinian Ceramics, Serrv, Wedding Gift Ideas

This beautiful ceramic dish, intricately hand-painted with a floral motif, celebrates traditional Palestinian craft. Purchases provide artisans in Bethlehem and Hebron with fair trade employment. High gloss glaze. Slight color and paint variations may occur due to handmade technique. Microwave safe. Hand wash. Size: 2.75"h x 8.5"dia

$

50.00

Dishware & Glassware, Palestinian Ceramics, Serrv, Wedding Gift Ideas

This beautiful triangle-shaped dish, intricately hand-painted with a floral motif, celebrates traditional Palestinian craft. Purchases provide artisans in Bethlehem and Hebron with fair trade employment. High gloss glaze. Slight color and paint variations may occur due to handmade technique. Microwave safe. Hand wash. Size: 1.5"h x 5.75"l x 5.75"w

$

34.00

Dishware & Glassware, Palestinian Ceramics, Serrv, Wedding Gift Ideas

This beautiful ceramic platter, intricately hand-painted with a floral motif, celebrates traditional Palestinian craft. Purchases provide artisans in Bethlehem and Hebron with fair trade employment. High gloss glaze. Slight color and paint variations may occur due to handmade technique. Microwave safe. Hand wash. Size: 8 3/4" dia

$

34.00
Dishware & Glassware, Mugs, Palestinian Ceramics, Serrv

This beautiful ceramic coffee mug, intricately hand-painted with a floral motif, reflects traditional Palestinian craft. Purchases provide artisans in Bethlehem and Hebron with fair trade employment. High gloss glaze. Slight color and paint variations may occur due to handmade technique. Microwave safe. Hand wash. Size: 4"h x 4 1/2"l x 3 1/4"w; holds 12 fl oz.

$

24.00

Dishware & Glassware, Mugs, Palestinian Ceramics, Serrv

This beautiful ceramic coffee mug, intricately hand-painted with a floral motif, reflects traditional Palestinian craft. Purchases provide artisans in Bethlehem and Hebron with fair trade employment. High gloss glaze. Slight color and paint variations may occur due to handmade technique. Microwave safe. Hand wash. Size: 4"h x 4 1/2"l x 3 1/4"w; holds 12 fl oz.

$

24.00

Dishware & Glassware, Mugs, Palestinian Ceramics, Serrv

This beautiful ceramic coffee mug, intricately hand-painted with a floral motif, reflects traditional Palestinian craft. Purchases provide artisans in Bethlehem and Hebron with fair trade employment. High gloss glaze. Slight color and paint variations may occur due to handmade technique. Microwave safe. Hand wash. Size: 4"h x 4 1/2"l x 3 1/4"w; holds 12 fl oz.

$

24.00

Dishware & Glassware, Mugs, Palestinian Ceramics, Serrv

This beautiful ceramic coffee mug, intricately hand-painted with a floral motif, reflects traditional Palestinian craft. Purchases provide artisans in Bethlehem and Hebron with fair trade employment. High gloss glaze. Slight color and paint variations may occur due to handmade technique. Microwave safe. Hand wash. Size: 4"h x 4 1/2"l x 3 1/4"w; holds 12 fl oz.

$

24.00
Dishware & Glassware, Palestinian Ceramics, Serrv

Colorful tabletop ceramics are intricately hand painted in bold floral designs, a traditional Palestinian craft. Sales provide artisans in Bethlehem and Hebron with fair trade employment, training, and opportunities to market their products worldwide. High gloss glaze. Slight color and paint variations may occur due to the handmade nature of these ceramics. Microwave safe, not oven safe. Hand wash recommended. Size: 2"h x 7"dia

$

39.00

Dishware & Glassware, Palestinian Ceramics, Serrv

Intricately hand painted in brilliant jewel-tone colors, this lively ceramic bowl helps to keep the craft tradition alive in the West Bank. Microwave safe, hand wash recommended. Not oven safe. Size: 2in. h x 11in. dia

$

64.00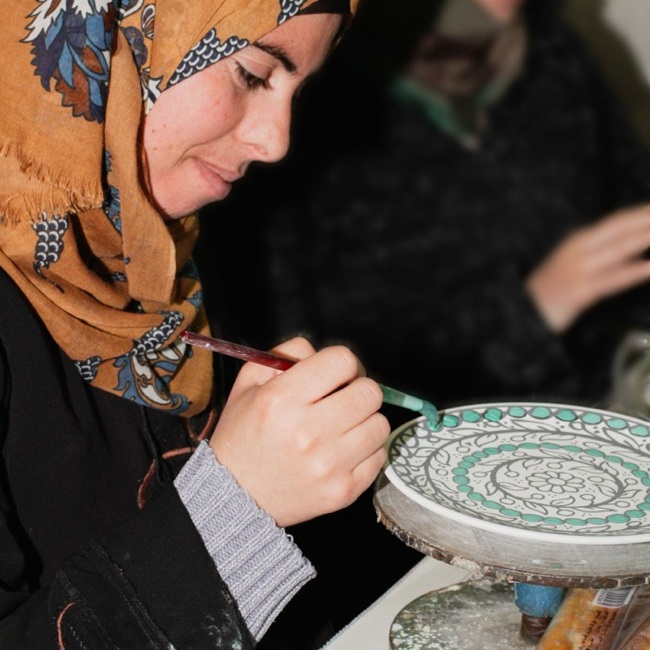 See Palestinian Artisans at Work